Old South Set to Spring Forward
As the start of Daylight Savings Time approaches this weekend, Dave Roberts and the team at Clockfolk of New England are preparing to change the time on the clock tower of the Old South United Methodist Church on Reading Common. Clockfolk, located in North Wilmington, has been the contractor in charge of winding and setting the big clock since 1979. Typically the clock is wound weekly on Friday afternoons, but for the weekends that the time "Springs Forward" or "Falls Back" they normally wait until Saturday afternoon. "It is a bit early, but hopefully it reminds folks about the upcoming time change." Roberts remarked.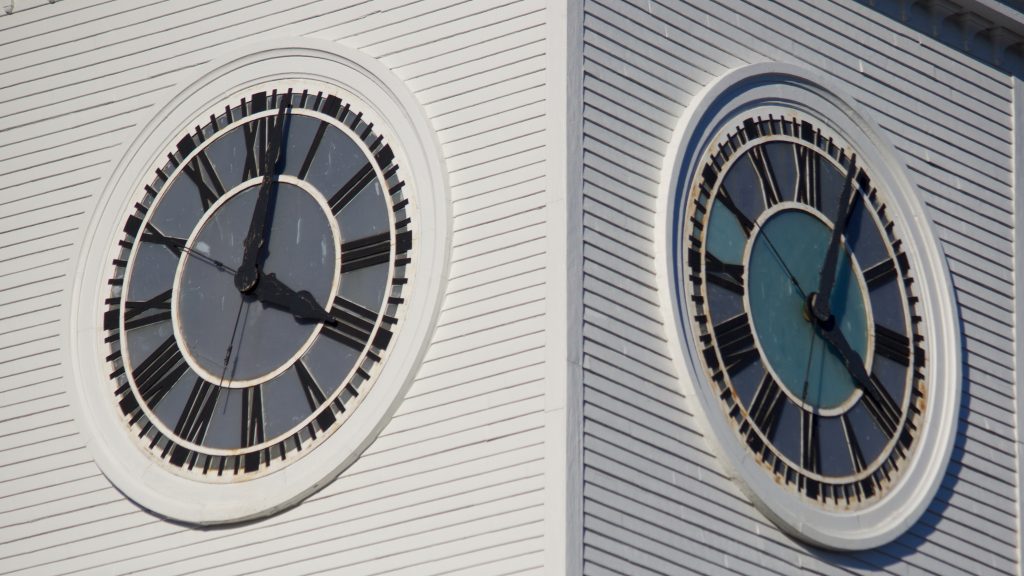 The clock's works are accessed via a locked door in the balcony of the church. Once inside the tower a ladder is climbed to get up to where the works are located. To wind and reset the clock, a large "Z" shaped crank key is used on two separate mechanisms. The key is similar to the cranks used to start antique cars. One mechanism, on the strike side, weighs over 800 pounds and controls the strike that rings the bell. The other mechanism weighs 400 pounds and keeps the hands on the clock faces moving. The hands are reset manually. The gears of the clock are made of bronze and function in a similar manner as they did when the clock was first installed back in 1912. The clock faces are made of glass and are illuminated by interior bulbs. The clock also has a 300-pound cast iron pendulum which is about ten feet long.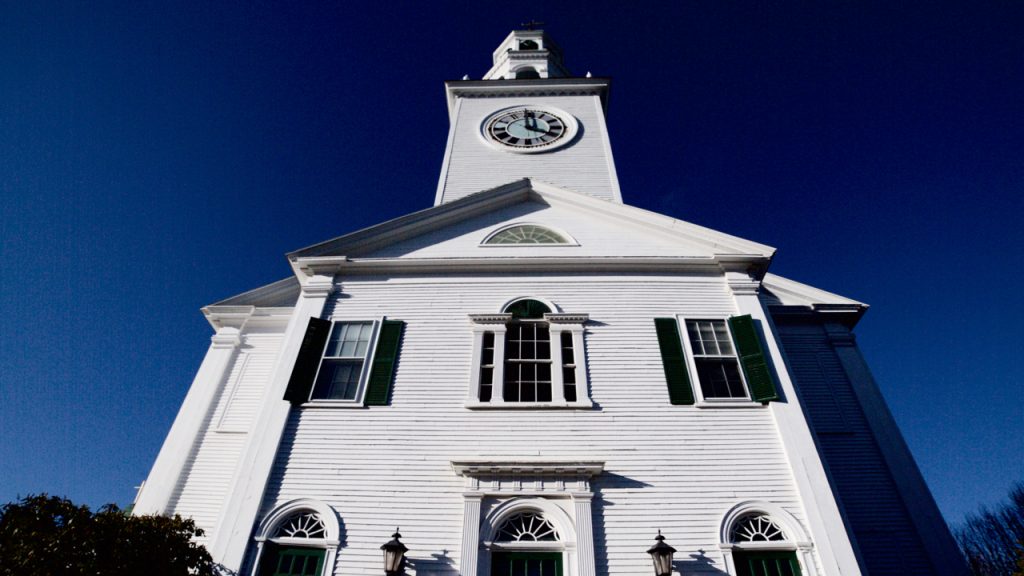 Roberts reported that though Clockfolk of New England winds the clock weekly, it can run about ten days before there would be a problem.  "That helps in case there is a snowstorm or other emergency that prevents us from getting up there." Roberts continued. Clockfolk of New England is an in-house, full-service company, providing the repair, rebuilding, restoration and conservation of antique and modern clocks. Their goal is maintain authentic condition where possible or to remake parts as original when necessary. Daylight Savings time begins this Sunday morning at 2:00 a.m. when clocks are moved forward one hour and will last until November 5 at 2:00 a.m.