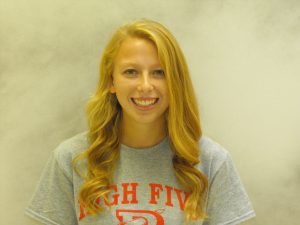 ANDREA FIALLI Class of '17
Andrea Fialli is being recognized for her excellence in academics, athletics, and service. Andrea is in the top 10% of the class of 2017 and is a member of the National Honor Society. She loves science in general and particularly enjoyed AP Chemistry. She is a 4 year member of the Girls' Varsity Soccer Team and is one of the co-captains this season, helping to lead the team to tournament play. Playing the outside mid-fielder position, Andrea is an outstanding playmaker, who prides herself on encouraging her teammates in the face of adversity. One of her proudest accomplishments this season was beating undefeated Winchester 1-0. Beyond the classroom and the field, Andrea finds time to officiate and coach basketball to children ages 5- 12. Additionally, Andrea takes her unbridled optimism and good nature to volunteer with the Special Olympics every year, helping to organize different athletic events for students with disabilities including track & field and bowling. Next year, Andrea will be attending college and majoring in one of the sciences—most likely engineering. Congratulations, Andrea!
---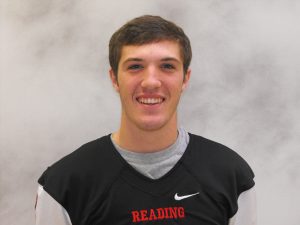 COREY DILORETO Class of '17
Corey DiLoreto is being recognized for his excellence in academics and athletics here at RMHS. Corey is an Honor Roll student, who particularly enjoys the rich and challenging discussions he has in his Facing History class. Athletically, Corey is a 4 year member of the Varsity Football Team and is one of the co-captains this season. A 3 year starter at the quarterback position, Corey was named as a Middlesex League All-Star last season, helping to lead the Rockets to a berth in the Super Bowl. This season, Corey has led the Rockets to another tournament run, beating Malden Catholic last week in the first round. In Basketball, Corey has been a 3 year starter playing center, helping the Boys' Team to qualify for the tournament and to a first round victory against Gloucester. In Baseball, Corey has been a 3 year varsity member as a pitcher and as an outfielder. Last season, Corey earned Middlesex League All-Star recognition, as well as being named to the Boston Globe and Boston Herald's All- Scholastic Teams. He also helped lead the baseball team to a Middlesex League Championship and an exciting playoff run to the North Finals. Beyond the field, Corey also makes time to coach and officiate flag football for children ages 5-12. Corey will be attending Northeastern University next year, playing out- fielder for the Huskies, and he will be pursuing a degree in business. Congratulations, Corey!