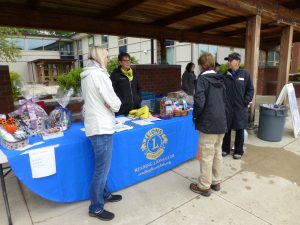 The weather may have been wet and damp, but that didn't stop many Reading residents from attending the first annual Wag & Walk event sponsored by the Reading Lions Club in early October. Folks gathered with their K9 friends at the Wood End School and followed three separate walking routes through the Reading Town Forest. The routes were clearly marked and every dog received a bright yellow Reading Lions Club bandana for their efforts. Mark Wetzel from the Reading Lions Club said, "It's a great way to introduce folks to the Town Forest (with their dogs) and the many routes available."
Folks from the Massachusetts Rescue and Recovery K9 Unit, which is a charitable, non-profit volunteer search and rescue unit dedicated to the training of search and rescue dogs, provided a fascinating demonstration at the entrance to the forest before the walk began.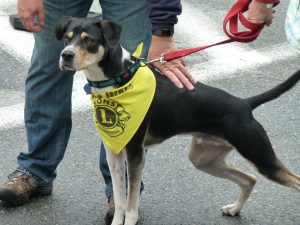 The suggested donations supported the Service Dog Project Inc. which provides service dogs for those with visual and other impairments. Before the event, Bella Burton, 11, from Woburn, MA, who was born with Morquio Syndrome, a rare genetic condition that affects her bone growth and limits her mobility, took photos with her Service Dog, George who just happens to be a 130-pound Great Dane.