It's Playoff Time:
For the first time since 2013, the Boston Red Sox return to the playoffs atop the American League East.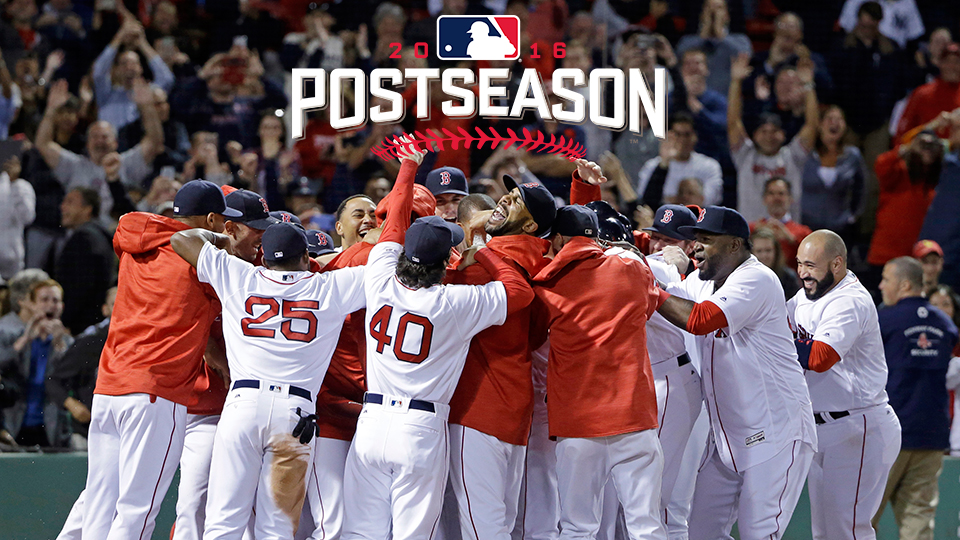 The Sox enter the playoffs with a record of 94-68, good enough for overtaking the Toronto Blue Jays who find themselves as the Wild Card winner.
The Red Sox will begin their playoff run Thursday, October 6th at 8:00pm versus the Cleveland Indians.  The Red Sox will be facing their former manager, Terry Francona, and former "Bearded Brother" Mike Napoli.  
The series will be a best of five with the Cleveland Indians owning home field advantage.  The Red Sox will play game 1 and game 2 in Cleveland.  They will travel back to Boston for game 3 and if necessary game 4.  Game 5 would be back in Cleveland.
Here is how the schedule will go for the Red Sox in round 1:
Game 1: Thursday, October 6, 8:00pm on TBS (in Cleveland)
Game 2: Friday, October 7, 4:30pm on TBS (in Cleveland)
Game 3: Sunday, October 9, 4:00pm on TBS (@ Fenway)
Game 4: Monday, October 10, Time TBA on TBS (@Fenway)
Game 5: Wednesday, October 12, Time TBA on TBS (in Cleveland)
The starting pitchers for both teams include:
Game 1: Porcello (22-4, 3:15 ERA) vs. Bauer (12-8, 4.26 ERA)
Game 2: Price (17-9, 3.99 ERA) vs. Kluber (18-9, 3.14 ERA)
Game 3: Buchholz (8-10, 4.78 ERA) vs. Tomlin (13-9, 4.40 ERA)
Game 4: Rodriguez (3-7, 4.71 ERA) vs. TBA
Game 5: Porcello (22-4, 3.15 ERA) vs. TBA