Polls open at the Walter Hawkes Field House at 7am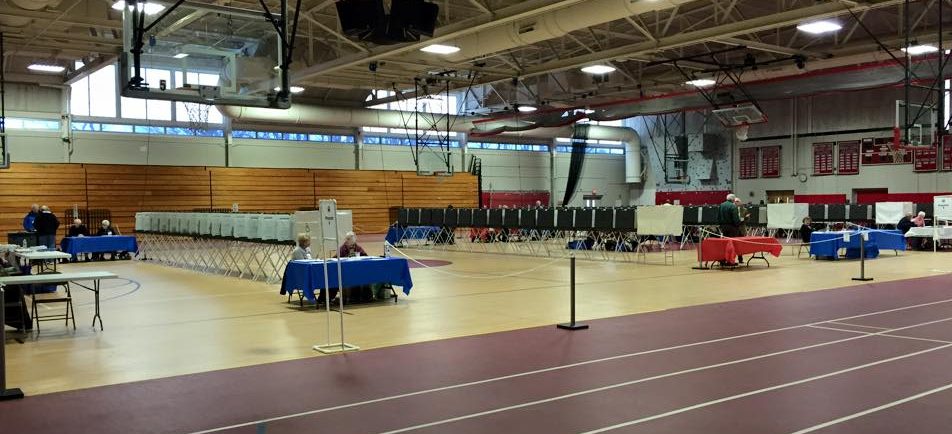 On September 8 the RMHS Hawkes Field House will host the state primary election for voters in all eight Reading precincts.  In this election, voters will select the candidates who will be nominated to represent their parties in the general election to be held on November 8. On the Republican ballots, there are no contested races.
On the Democratic side, there is a race for the nomination of the Middlesex County Sheriff.  Candidate for re-nomination Peter J. Koutoujian of Waltham faces a challenge from Barry S. Kelleher of Wilmington. Koutoujian, the incumbent has been Middlesex County Sheriff since 2011. He spent fourteen years on Beacon Hill representing the 10th Middlesex District. Kelleher is a career corrections professional. He has worked in the Middlesex Sheriff's Office for the past eighteen years.
The race for nomination for the 6th District Governor's Council is also contested. Terrence W. Kennedy of Lynnfield is the Candidate for re-nomination and is facing challenges from Stephen Borelli and Richard J. DiMeo, both of Boston. Kennedy has served on the Governor's Council since being elected in 2010 and is a longtime political and community activist. Borelli is an attorney and was appointed as an Assistant Clerk Magistrate in 2006.  No information on DiMeo's background was available for this post.
In precincts 2-5 there is also a race for the 30th Middlesex District Representative in the State Legislature.  Candidate for re-nomination James J. Dwyer of Woburn is facing a challenge from John Patrick Devine, also of Woburn. Dwyer, the incumbent, retired after serving more than three decades with Middlesex County Juvenile Probation Department and has been in office since 2009. Devine is a former paralegal, house painter, carpenter, taxi-cab driver, deli clerk and evolutionary neuroanatomy lab intern.
Polls open at 7:00am and will stay open until 8:00pm on September 8.