Saturday, September 10 at Unitarian Universalist Church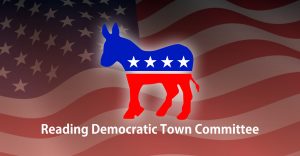 The Reading Democratic Town Committee invites you to a breakfast of fun, good company and the opportunity to meet and hear from Democratic candidates and elected officials. The event will be held at the Unitarian Universalist Church on September 10, from 8:30-10:30am. Confirmed guests include Barbara Madeloni, President of the Massachusetts Teachers Association, Middlesex District Attorney Marian Ryan, State Senator Jason Lewis, and State Representative Mike Day.
"Come and hear from candidates and about the ballot questions you will be voting on come Tuesday, November 8th," remarked Meghan Young, Chair of the Reading Democratic Committee.
Breakfast with Dems will be held at the Unitarian Universalist Church at 239 Woburn Street (corner of Summer Avenue.) Tickets are $15/per person and may be purchased at the door or by contacting Meghan Young at meghany@comcast.net .
The Reading Democratic Town Committee is the organizing body for the Massachusetts Democratic Party in the Town of Reading. The Committee holds monthly meetings to inform area residents about the candidates and issues at the federal, state, and local level. This summer committee members have participated in canvasses for the entire range of Democratic candidates and ballot issues and will have a booth at the Reading Fall Street Faire on Sunday, September 11th.