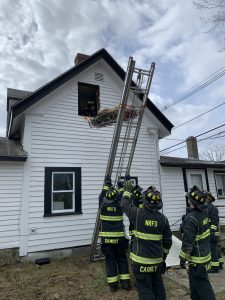 Reading, MA — Reading Fire Chief Gregory Burns and North Reading Fire Chief Don Stats are pleased to announce that both departments are conducting joint firefighter safety and survival training this week
Firefighters are being trained in special techniques focused on rescuing firefighters who become trapped, lost or injured in a fire through three different skill stations.
"These trainings are an important part of the work our firefighters do," Chief Stats said. "They allow us to practice for real life emergency situations to ensure that we are able to respond quickly and safely to members in need. Thank you to the Reading Fire Department for partnering with us for this training and for helping to provide the resources for this important work and also to CJM Builders for providing the structure."
"The Reading and North Reading Fire Departments work together seamlessly at emergency scenes on a regular basis," Chief Burns said. "This training strengthens our skills, or working relationships and enhances safety on the scene of an emergency."
The training is being held over the course of four days which allows all shifts from both departments to work together and is not associated with any grant, but is being conducted with the full support of each department. North Reading Training Coordinator Captain Eric Pepper, North Reading Assistant Training Coordinator Vincent Zarella and Reading Training Coordinator Captain Rick Nelson worked together to coordinate and conduct the training evolutions on each day.
The first training allows participants to practice how to avoid becoming entangled and how to respond if they or another member of the department becomes entangled while performing a traditional search during a fire.
The second exercise gives participants the opportunity to practice rescuing a member who has fallen through the floor while responding to a fire. A firefighter will act as a conscious victim and a training mannequin will also used to simulate an unconscious individual. Other members will be tasked with using a hose line to find and rescue the victim.
The final exercise gives participants practice rescuing an unconscious firefighter from a second floor window. Using a training mannequin, firefighters will practice securing the victim to a basket and lowering it safely down with the help of a ladder.
"I cannot stress enough how important this type of training, and training with our mutual aid partners, is in the event that we need to put these life-saving maneuvers into action" Chief Stats said. "Joint training between departments that are mutually reliant on one another is critical and immediately gives both departments the confidence, skills and knowledge base that are interoperable between both departments which translates into a seamless, efficient operation."